Super & Financial Services
---
BUILDING YOUR FINANCIAL HOME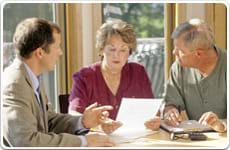 The right superannuation and financial advice can make the difference between a good life and a great life.
Retirement should be a time to sit back and enjoy the fruits of your labour.
Sadly for many, this will not be the reality.

At Castletons, we simplify the complex areas of investments, insurance, superannuation, and estate planning so you can get on and enjoy your life.

We believe real wealth management encompasses all aspects of an individual and their family's financial affairs.
As your accountant we already have an in-depth knowledge of your tax affairs. This enables us to work as your "Financial Architect" to design a strategy that provides financial security for yourself, your family and your business.
Let us design your financial home!
Most people insure their house, car and personal effects but neglect to insure their lives and their ability to earn income (their most valuable asset).
Ask yourself - what would be the financial consequences if you became disabled, passed away or found you were incapable of working for an extended period?

Would you (or your family) have enough money to pay for:
Ongoing living expenses
Funeral costs
Debts - mortgage, credit cards or car etc…
Your children's education
Retirement
Insurance is the key to managing these financial burdens caused by death, disability or ill health. It is crucial to protect your loved ones against these events as the effects can be insurmountable.

At Castletons, we are able to explain what insurances are available and how they protect your circumstances. We also provide guidance as to an appropriate level of insurance cover that will provide your family with financial support and ensure they are well looked after.
Superannuation planning plays a key role in meeting your retirement dreams.

Superannuation is a very tax effective tool to increase the amount you have available for your retirement.

However, this can be a very confusing process as legislation is always changing and there are a myriad of technical terms used.

At Castletons, we can guide you through the legislative maze and put in place a strategy that will assist you to be financially prepared for an enjoyable retirement.
Many people also like to maintain direct control over their individual superannuation investments and this can be achieved by using a Self Managed Super Fund (SMSF).

Castletons can assist you in:
determining if an SMSF is suitable for you
establishing your SMSF
the ongoing operation of your SMSF
If you already have an SMSF please refer to the accounting and audit sections of our website for information on how we can help you.